We would like to thank all the volunteers that have been collecting signatures and those of you that have already sent packets. Thanks for contacted us letting us know how many signatures you have already collected, and that you are continuing to volunteer!
The signatures that have been collected never expire. Once you sign the petition, your signature remains good until it is submitted.
Also, if you would like to volunteer for signature gathering, please email us at This email address is being protected from spambots. You need JavaScript enabled to view it. with your contact information and what county you are in. Also, if you are interested in being a Region coordinator let us know!
If we can show grassroots activity collecting maybe over 50,000 signatures, we may be able to get funding for 2013. This will help in obtaining "paid" signature gatherers to ensure success for a 2014 ballot.
Thank you for your time and effort!
OATA Committee
The medical marijuana ballot petition for Ohio patients has been approved by the Board of Elections, Secretary of State, and the Ohio Attorney General.
The Ohio Alternative Treatment Amendment petition is ready for you to help circulate and get it signed! This is your chance to help end medical marijuana prohibition here in Ohio. Please tell your friends, family, co-workers, college professors, doctors, and anyone else in between that we are recruiting volunteers. Send them to this site. Have them send an e-mail with their name, address, phone number, and e-mail address to This email address is being protected from spambots. You need JavaScript enabled to view it. They will then be added to our list of petition volunteers.
Now, let's make Ohio Medical Marijuana a reality and get those thousand's of signatures so we can put it on the ballot. If you want to get involved as a petitioner, please download and print the PDF file and sign up as a volunteer using the Volunteer menu on this website. Be sure to read the first page carefully, then print as many copies as you can afford and go get signatures. You will find it a rewarding experience. Here is the link to the official petition with an instruction page.
Our friends from Miami Valley Norml have found a very useful aid to help us in the collection process.
1. Go to Staples or Office Depot and buy a legal size clipboard ($2-$3)
2. Use the following image (link below) for the back of your clipboard. This makes it easier and faster in the collection process especially in crowds.
http://www.miamivalley-norml.org/images/stories/medical/NORML_Clipboard_Sign.pdf
or without the NORML logo
http://www.miamivalley-norml.org/images/stories/medical/Ohio_Petition_Clipboard_Sign.jpg
You may want to get several clipboards to make your signature gathering quicker especially in a crowd. NORML provided some helpful hints for a clipboard to making it easier and faster to collect signatures. You can get the image so you can make your own sign for your clipboard with this link to the image.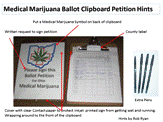 Be sure to look over and become familiar with the official instructions (5MB file), that was provided by the Secretary of State, on how signatures are verified. The important parts are highlighted in yellow again it is a big file (5MB), so be patient if you have a slow connection and want a really good copy. A smaller legible copy (1.3MB) is also available in this link.
Please send the ballot committee an email using the Contact MMJBALLOT link so Ohio Patients can help assist and coordinate efforts.
Common Mistakes While Circulating Petitions
Joe Bozzi, Director of The Ohio Freedom Alliance and Board Member of The Ohio Liberty Council covers the most common mistakes that volunteers make when circulating petitions
Common Mistakes for Petition Circulators to Avoid
DO NOT change the order of pages in the petition packet
DO NOT take pages out of the petition packet
DO NOT un-staple your petition packet
DO NOT fill out information for the voter
DO NOT sign your own petition. As the petitions circulator you will only sign the "Statement of Circulator" on the last page. You can be a petition signer on someone elses petition.
DO NOT combine counties on a single petition packet.
DO fill out all required information on the last page
DO instruct the voter to write information legibly
DO make sure the signer is a registered voter in the county for your petition
DO make sure the voter fills out all required information
DO make sure the voter fills out accurate information to the best of your ability
DO Not Abbreviate.
Do Not have the voter Fill out Ward/Precinct box on the Petition unless they are 100% sure of the precinct they belong to. It is better for the box to be blank than filled out with the incorrect precinct/ward information.
After you reviewed the common mistakes test yourself by taking the